5 Pressure Washing Tips & Safety Advice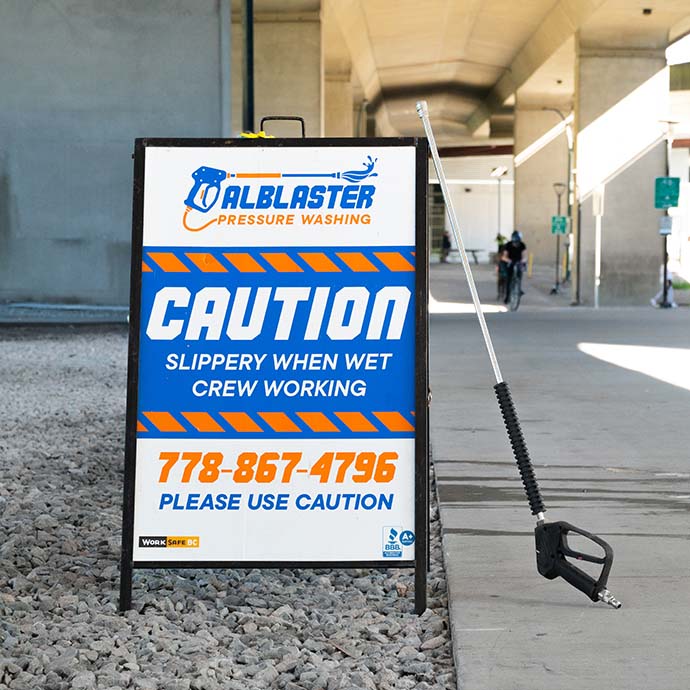 Pressure washing allows a simple cleaning method for large projects such as home exteriors, decks, and driveways. A regular garden hose does not pack the punch needed to thoroughly remove ground-in dirt, grease, and stains.
Get great results using the right power washing tools and equipment…
The Ideal Pressure Washing Machine
PSI is the pressure output measured in 'pounds per square inch' and GPM is the volume of water a machine delivers, measured in 'gallons per minute'.
Light Duty
Rated below 2000 PSI. Ideal for cleaning patio furniture, siding cars, trucks, and boats.
Medium Duty
Rated between 2000-2800 PSI. Ideal for cleaning patio furniture, siding cars, trucks, and boats. They can also be used to clean sidewalks, driveways, patios, fences and decks.
Heavy Duty
Rated between 2900-3300 PSI. Ideal for sidewalks, driveway, second-story surfaces and preparing surfaces for painting.
Extra Heavy Duty
Rated 3300 PSI and higher. Ideal for industrial heavy cleaning.
5 useful Pressure Washing Tips
Are you removing stubborn stains or debris like leaves and sticks? There are 5 universal color-coded tips to help you choose the spray pattern required.
Red Tip
Red produces a 0 degree extremely concentrated spray that is very powerful for cleaning deeply soiled concrete. This tip has enough pressure to damage or scratch fragile surfaces. Never spray close to a surface with this tip or use it to spray metallic surfaces on cars.
Yellow Tip
Yellow produces a 15-degree spray pattern which is excellent for heavy duty cleaning. It is ideal for concrete, garage floors and walls. This tip is not suitable for detergent-based or chemical based cleaning as the chemicals can embed deep into cracks of the surface being cleaned.
Green Tip
Green produces a 25-degree spray pattern that is suitable for cleaning decks, walkways, and brick patios. Green is ideal for cleaning a boat or washing cars with detergent as it sprays the right amount of GPM and PSI required for the job.
White Tip
White produces a spray pattern of 40 degrees that is specifically designed to clean delicate surfaces such as stucco walls and home siding. It offers low pressure and an adequate water flow to effectively clean sensitive areas.
Black Tip
Black produces a spray pattern of 65 degrees and covers a wide area with a very gentle stream. This tip is ideal to wet surfaces and apply chemicals or detergents, however, it is not meant for cleaning purposes.
The 5 universal tips are not typically used on their own for hard to reach surfaces as the wand does not offer enough flexibility to bend while maintaining pressure. For these areas, it is best to use a pivoting nozzle.
The perfect nozzles
A pivoting nozzle is meant for hard-to-reach surfaces such as soffits, gutters, and under the deck as the wand can bend up to 90 degrees. This lets you access deep crevices and hidden areas when using one of the universal tips.
When pressure washing concrete, decks, or vinyl siding…Stay Safe!
Make sure you are standing on a solid footing
Wear eye protection
Use the correct nozzle and spray setting
Never point the spray gun at people, animals or plants
Keep all spray equipment clear of electrical fixtures and power lines
Only use cleaning detergents that are approved for pressure washing machines
Test the power of the machine before using
Do not spray under siding or directly at window casings
If you are looking for additional expert advice call the Vancouver pros at Alblaster Pressure Washing.
We are always happy to help you with pressure washing tips or to step in and help you get the job done.