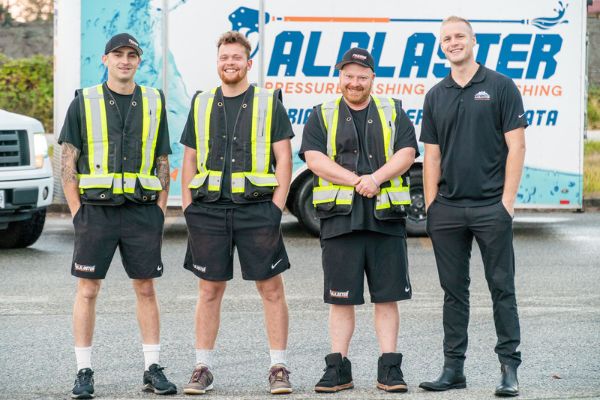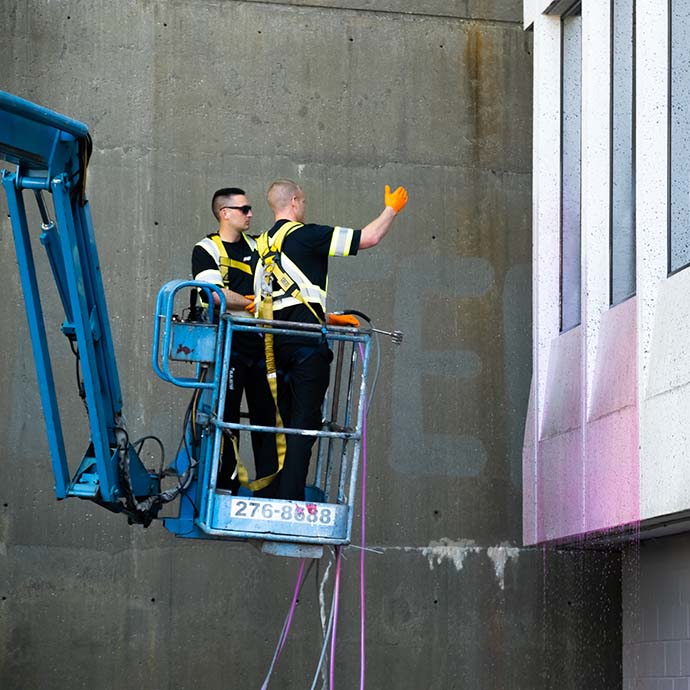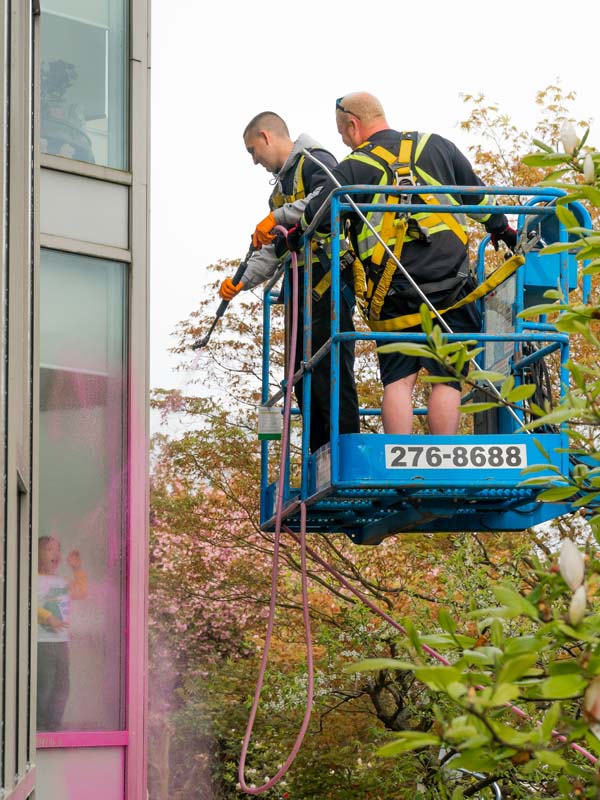 Your Alblaster Team!
Alblaster Pressure Washing & Soft Washing Ltd serves the Greater Vancouver area. Our clients describe as experts in the exterior cleaning industry. We achieve this by taking what we knew and innovating it with all new advancements in the industry. These advancements, combined with our decade of experience, have allowed us to bring only perfection to our clientele.
We are always proud of our work and stand behind its quality. Leaving all clients with a "WOW" experience is something we aim for on every job we complete. The Alblaster team members have become a family, and we strive to do the best work possible because our quality of work reflects our personal and brand values.
We offer a wide range of services and are passionate about building customer relationships. Our clients come from Industrial, Commercial, Strata, and Residential properties. We hope this website helps you understand the process and benefits of Pressure Washing and Soft Washing.
We have fully comprehensive and third-party liability insurance with up-to-date registration. Clients can request a copy of our insurance or WorkSafeBC documents at any time.
Please get in touch with us if you have any questions about our services or how Alblaster can help. We offer free estimates and look forward to meeting you.
WHY HIRE US
WHAT MAKES US DIFFERENT?
Our low-pressure soft-washing exterior cleaning methods ensure your property's safety without compromising our process or effectiveness.
We partner with high-quality products and industry-leading suppliers.
We aim to build long-term trusting relationships with our clients rather than generating a single transactional sale.
We take the time to learn while always using new methods and techniques to provide you with the best quality exterior cleaning.
We train all team members exceptionally well to ensure they work efficiently.
We pride ourselves on having lower prices than the competition.
Here at Alblaster Pressure Washing we listen to our customers and keep your needs in mind to ensure that we deliver the best and most.
Our strata had Alblaster come in to power wash our parkade, the driveway, and the stone steps leading out to the back alley. He did a fantastic job! So courteous, prompt with a quote. We found the price was more than reasonable for the task. We were also able to get our parking stall lines and numbers repainted. It's never been so clean. They use a hot water pressure washer and even got out some grimy oil stains. It's a relief to find a conscientious company that provides excellent service. We will definitely have Alblaster in again.
Alex promptly replied to my call. On the day agreed, his pressure washing service showed up as expected with a full truck and all equipment. He spent the entire day working and left the yard and tiles clean and sparkling. The price was more than fair. I would highly recommend.
Great service. Made sure I was completely satisfied with their work before they left the site. Would definitely recommend them for pressure washing.
Corinne Dempsey
Vancouver
Very impressive to work with. Responded to phone calls quickly, gave a fair quote, was able to reserve a time fairly quickly, and the job was very well done. Thank you!
Very professional crew who was very thorough about getting the job done. My house is now too bright to look at.
Alblaster – Pressure Washing Services is a great company to deal with. I have a home here in Burnaby, BC which was in dire need of pressure washing due to the build up of mildew on my driveway/outside deck which is typical in the lower mainland due to the amount of rain we get. The Alblaster team arrived promptly and beyond exceeded my expectations. I would HIGHLY suggest these guys for any of your residential/commercial needs. They really pay attention to detail, couldn't be happier. Thanks!
We hired Alblaster to pressure wash the walkways and clean the windows in our strata complex. They were absolutely amazing from the first point of contact. They attended our property and provided a quote within 24 hours. They were the lowest of three quotes and they attended our property within a week of being hired. The workers did a wonderful job of cleaning up our property. The walkways went from being extremely green and grimy to looking brand new again. Alexz in the office was a pleasure to deal with. He was very friendly and responsive. We will definitely work with Alblaster again in the future!
Professional and responsive from start to finish. Followed up after the work was complete to ensure satisfaction. Went above and beyond the work quoted.
Alexz and Daniel were very responsive. A reply came on the same day as the request, they listened to our needs, and provided both their availability and a quote quickly. They also specified their needs to provide their service in advance, so there were no surprises on site. City noise-bylaws were respected, they and were considerate of the neighbours. The final cost was no any higher than the original quote. They did the job completely, and on time. Thank you for your great work!
Crystal Gilhooly
Vancouver
Josh removed algae from our metal roof. They arrived on time, conducted the work efficiently and effectively, and took the time to clean up the property after they finished. A good company to deal with.
I was very happy with the job that was done washing the exterior of our house. The house came out looking beautiful. The washers were very thorough, had excellent equipment, and did a very good job.
We had a great experience with Alblaster, we will definitely use them again! Affordable with above and beyond service.
Digital Incoming
Vancouver
Alblaster Pressure washing gave me a quote within a day. Their prices were slightly higher than some other quotes i received, but i just got the sense their equipment and crew were exactly what i was looking for to get the job done right., so i hired them.
It was a right choice i made they went beyond my expectation and i would hire them in a heart beat again.
Alexz and their team did a wonderful job of pressure washing the front entrance of our business. They responded to my request very quickly, and their team provided one of the best pressure washing we've had at our DTES location. The cost was also extremely reasonable. I would use their services again and suggest it to everyone. 11/10.
Alblaster provided an excellent service. Couldn't be happier with the work Alblaster did cleaning a glass awning. They were on time, professional and thorough. Not a spot of dirt or mildew was left behind and they even gave the back windows a good rinse as well (thank you). Great company to do business with. We will use them again in spring and definitely recommend. Thought that pricing was fair and very good value in comparison to other companies we contacted.