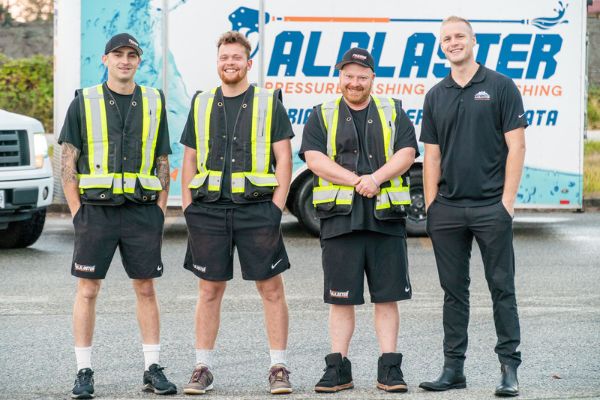 Richmond Soft Washing & Pressure Washing Services
In the Richmond BC area, the most experienced property-washing and cleaning service is Alblaster. We have been a trusted partner of property owners and managers for over a decade. We are highly skilled at all of the services your property requires and our experience tells us which one of those services is appropriate for you. This is just one of the reasons we are considered the best choice for pressure washing and soft washing in Richmond. We know the typical homes and buildings in Richmond, so we know what to look for, and what it takes to keep your property looking new.
OUR SERVICES
RICHMOND PRESSURE WASHING
WHY HIRE US?
WHAT MAKES US DIFFERENT?
Our low-pressure soft-washing exterior cleaning methods ensure your property's safety without compromising our process or effectiveness.
We take the time to learn while always using new methods and techniques to provide you with the best quality exterior cleaning.
We train all team members exceptionally well to ensure they work efficiently.
Vancouver Pressure & Soft Washing Reviews
Here at Alblaster Pressure Washing we listen to our customers and keep your needs in mind to ensure that we deliver the best and most.
Our strata had Alblaster come in to power wash our parkade, the driveway, and the stone steps leading out to the back alley. He did a fantastic job! So courteous, prompt with a quote. We found the price was more than reasonable for the task. We were also able to get our parking stall lines and numbers repainted. It's never been so clean. They use a hot water pressure washer and even got out some grimy oil stains. It's a relief to find a conscientious company that provides excellent service. We will definitely have Alblaster in again.
Alex promptly replied to my call. On the day agreed, his pressure washing service showed up as expected with a full truck and all equipment. He spent the entire day working and left the yard and tiles clean and sparkling. The price was more than fair. I would highly recommend.
Great service. Made sure I was completely satisfied with their work before they left the site. Would definitely recommend them for pressure washing.
Corinne Dempsey
Vancouver
Very impressive to work with. Responded to phone calls quickly, gave a fair quote, was able to reserve a time fairly quickly, and the job was very well done. Thank you!
We hired Alblaster to pressure wash the walkways and clean the windows in our strata complex. They were absolutely amazing from the first point of contact. They attended our property and provided a quote within 24 hours. They were the lowest of three quotes and they attended our property within a week of being hired. The workers did a wonderful job of cleaning up our property. The walkways went from being extremely green and grimy to looking brand new again. Alexz in the office was a pleasure to deal with. He was very friendly and responsive. We will definitely work with Alblaster again in the future!
Professional and responsive from start to finish. Followed up after the work was complete to ensure satisfaction. Went above and beyond the work quoted.