Awning Cleaning Services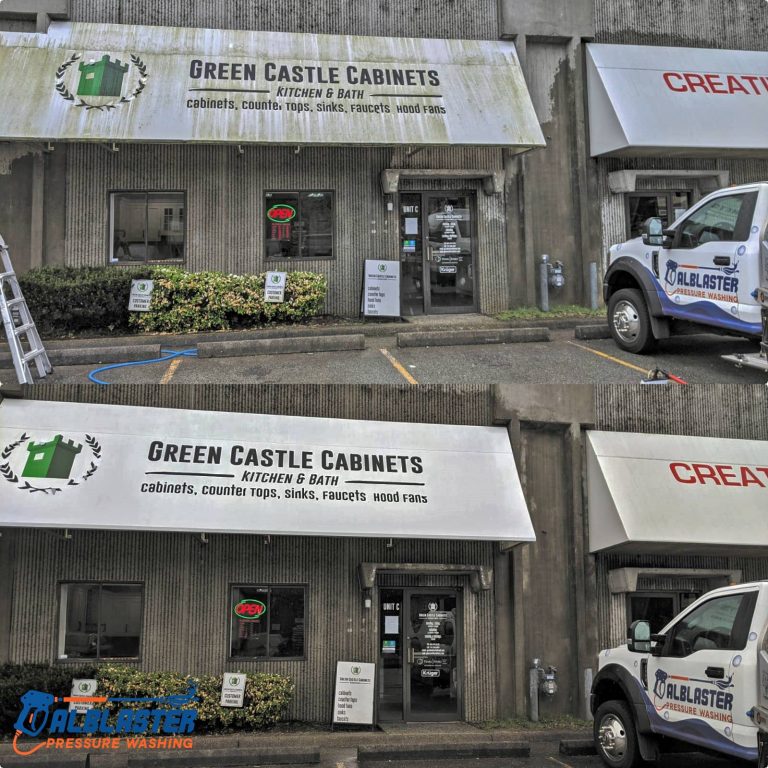 We clean all types of awnings
The face of every business delivers a message. When you want to make sure your message says 'We take great pride in serving you it is a good idea to contact Alblaster Pressure Washing for their awning cleaning services.
Potential customers can be turned off by a variety of appearances. Please even the toughest critics with a well-maintained awning.
Regularly scheduled awning cleaning is the best way to prevent staining and wear and tear. Over time outdoor elements, weather, pollution, and bird droppings can discolor and permanently damage an awning.
Get Alblaster to keep your business clean and inviting to experience a steady flow of customer traffic.
Awning Cleaning Solutions
It is never a good idea to throw whatever cleaners you have handy at the dirt and grime on your awning.
Doing so can be a costly mistake
We do a thorough inspection of every awning and select the appropriate stain remover and cleaner for every awning type. We also have a protectant chemical that we put on awnings after cleaning so your awning is looking new for longer. Our crew takes care of the exterior and underside to ensure insects and birds have not taken up residence inside your awning, and that lighting and electrical are properly cared for during the cleaning process.
Alblaster arrives equipped with all the pro awning cleaning tools and solutions to carefully blast away dirt and debris from vinyl, fabric, canvas and hard shell awnings.
Put the power of soft washing in the hands of the pros at Alblaster. Our expert crews work the front lines of your business to help you make a terrific first impression.
Awning Types
Refresh the face of your business with Alblaster Pressure Washing.
All outdoor signage should be crisp and clean.
We service all types of awnings:
Fixed and retractable
Window and door awnings
Cloth and canvas
Hard awnings including pedestrian walkways and glass
Tents and tarps
Walkway and entrance canopies
Sign awnings
Patios and porches
Call today to learn more about our awning cleaning products and services.
We are an incredibly friendly bunch and always happy to provide FREE expert advice about what we can do to keep your awning looking new.
Alblaster Pressure Washing. Simply convenient and affordable awning cleaning solutions. Serving Vancouver and the lower mainland.