Cleaning an Asphalt Shingle Roof the Right Way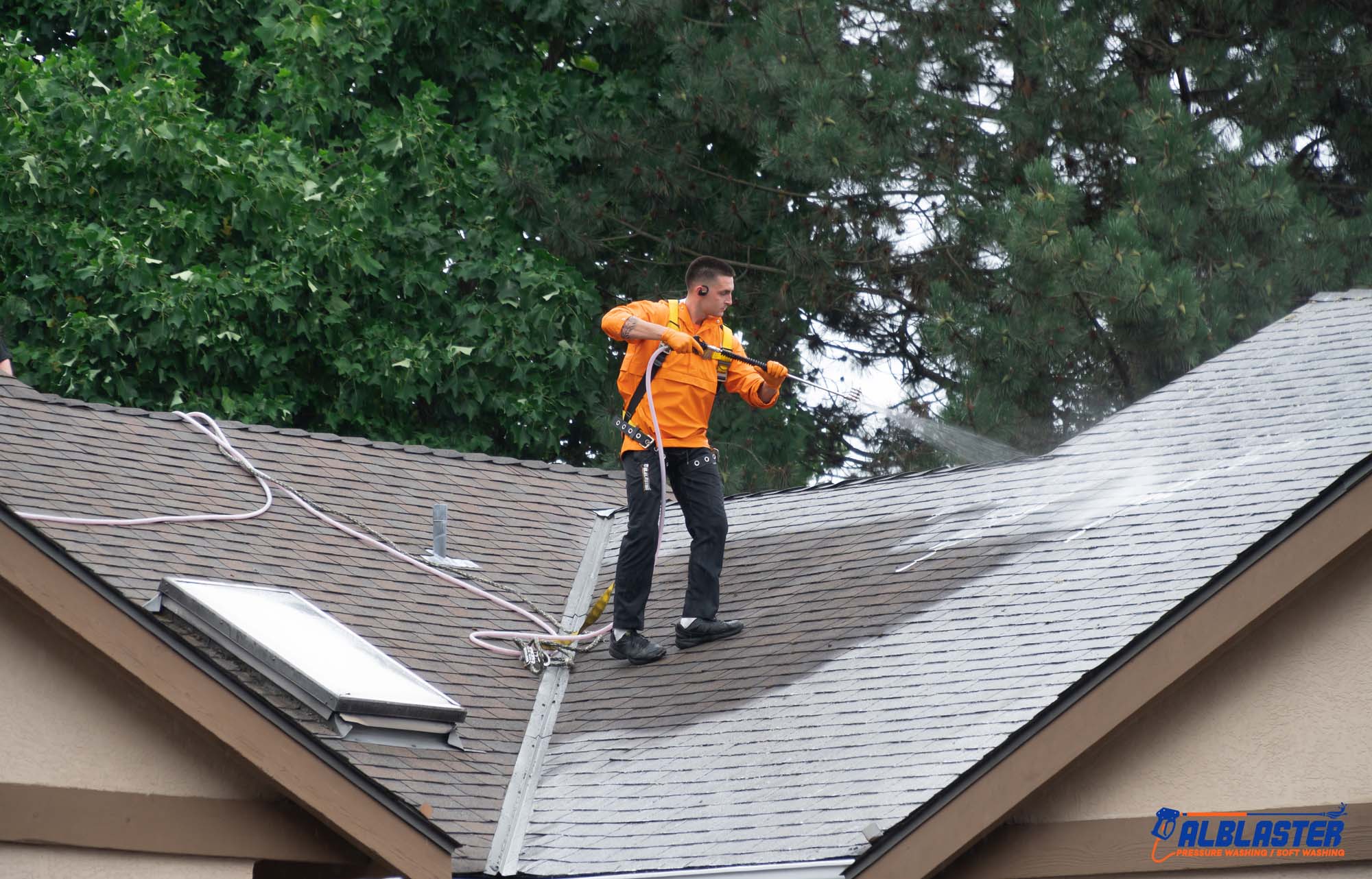 How to Clean an Asphalt Shingle Roof the Right Way?
Property owners face a common challenge when wanting to clean their asphalt shingle roof. They need to eliminate the damaging moss, mildew, and other invasive materials, keeping them abated, without damaging the roof. There are several ways to consider, but it can be difficult to know which way is best.
At Alblaster, extending the life of your roof is our number one job. Cleaning should be safe for your roof material and be effective. Soft washing is the best option. It is gentle on the roofing material but will remove any build-up on the surface of the shingles. It will also lay down a retardant to new growth.
If you are not sure how to soft wash your roof, consult a professional roof cleaning company like Alblaster. Rather than you having to get up there, ask us to do it. We can safely clean your roof using soft washing methods. Cleaning your roof in the wrong way can dramatically shorten its lifespan. Asphalt shingles are not meant to be cleaned with high-pressure washing. Doing this can cancel the roofing manufacturer's warranty.
Alblaster's expert crews can make sure that your roof is clean, and fresh-looking in an efficient amount of time, without damaging your roof, with little disruption and without risking injury by doing it yourself.
How Often Should an Asphalt Shingle Roof be Cleaned?
Keep tabs on the condition of your roof with an occasional visual inspection. That way, if you see signs of damage or discoloration, that can be your warning flag to contact your roof cleaning experts.
It is a good idea to clear away, typically with a leaf blower, any debris a few times per year, particularly after a storm. Leaves, twigs, and branches can impede water from flowing off your roof, causing pooling, leaks, and rot.
How often your asphalt roof should be cleaned can be determined by several factors. These factors include your climate, the age and current condition, and any debris-causing trees that surround it. We generally recommend soft washing your roof about every two to three years.
Cleaning your roof regularly can help extend its life and keep it looking new. It can also prevent moss and algae from growing, which can cause damage to the roofing materials.
Soft Washing
This gentle yet thorough process lets the detergent do the cleaning instead of water pressure. In fact, water alone doesn't kill the invasive biomaterial, and water under high pressure can simply push the material deeper into your roof shingles. Our soft washing process utilizes a low-pressure stream of water with an eco-friendly detergent that cleans off organic material and addresses the root of the problem.
This phase of the process not only loosens the first layer of organic material and the associated stains but also retards further growth.
If you're not comfortable cleaning your roof yourself, you can hire a professional soft washing company to do it for you. Alblaster has the experience and expertise to get the job done safely and effectively.
Choose the Professionals at Alblaster for Cleaning Your Asphalt Shingle Roof
Contact Alblaster today to learn more about our soft washing process. We'll inspect your roof and provide a free estimate. Our soft washing process will leave your roof spotless and looking new.
If you have any questions, please don't hesitate to contact us. We are always happy to help!