Soft Washing – Exterior of Your Strata Home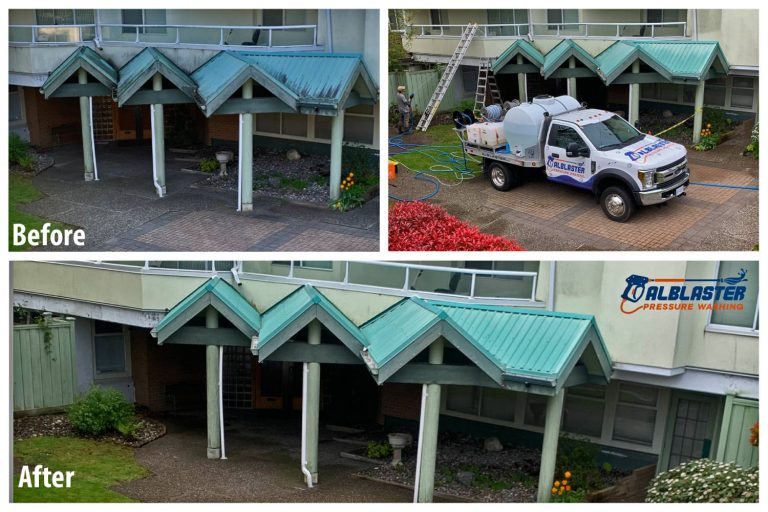 Exterior Building Cleaning for Strata Homes
Strata homes and properties are becoming increasingly popular in both Vancouver and surrounding British Columbia. Given the added amenities, security, and value that many of these properties offer, this should come as no surprise! While perhaps not your "conventional" house, strata properties will undoubtedly still feel like home. As such, maintain the cleaning of both the interior and exterior is essential and, for the latter, there is no better option than Alblaster Pressure Washing.
Revamping your Siding

No matter the outside material of your strata homes, the exterior building cleaning specialists at Alblaster will have them looking good as new in no time. Our professionals are well versed in cleaning vinyl, stucco, and aluminum siding and use only the best equipment and products to guarantee an impressive final result. Typically, the process includes presoaking the walls biodegradable chemical cleaner for up to 10 minutes to weaken any major stains or algae, using foaming guns and our pressure washers on every square centimeter with the proper hot water temperatures and pressure to efficiently clean without damaging the walls, and finally focusing on details with hand and brush to ensure nothing is overlooked.
Spotless Window Cleaning

While siding makes up the majority of your exterior, Alblaster doesn't stop there. Clean windows are a constant battle for homeowners, but our pros have the system dialed. By using our specialized soft scrub brushes and squeegees and extension poles for those hard-to-reach windows, we will leave your panes crystal clear and streak-free.
Clean and Unclog your Gutters

Thorough exterior building cleaning doesn't stop there. Gutters, too, can be a major hassle for strata owners and maintenance crews. Clogged and unmaintained gutters can break and cause serious issues – necessitating a deep clean a few times each year. This is easy to schedule in conjunction with another Alblaster visit. We encourage all home and strata owners too, at a minimum, to have their gutters cleaned in the autumn after leaves have fallen in order to keep them open and unclogged for the rainy or snowy winter ahead.
The Alblaster Attention to Detail
Finally, aesthetics should also be taken into consideration for strata owners. Clean siding, windows, and gutters will make your units look nice, but attention to detail will separate them from the rest. Thankfully the experts at Alblaster have a keen eye for cleanliness, and hiring our team to tackle the little things is a great way to set your properties apart. By pressure washing your garage, driveway, and walkways and deep cleaning any exterior fences, your unit will immediately appear that much more inviting to guests or potential buyers. Typically these detailed finishes are fast and inexpensive, and you will instantly notice how much of a difference they make to your home's exterior.
One visit from our team will not only leave your strata buildings looking brand new, but routine exterior building cleaning is essential to increase the longevity of your home. The preventative benefits of regular cleaning can save you a lot of money otherwise spent on repairing and replacing aged or damaged siding, windows, gutters, and more.
Call Alblaster today to get a quote on your strata and you will quickly discover that the cost of regular exterior building cleaning is much more consumer-friendly than a complete overhaul on an unmaintained exterior.