Future of Cleaning Properties is Soft Washing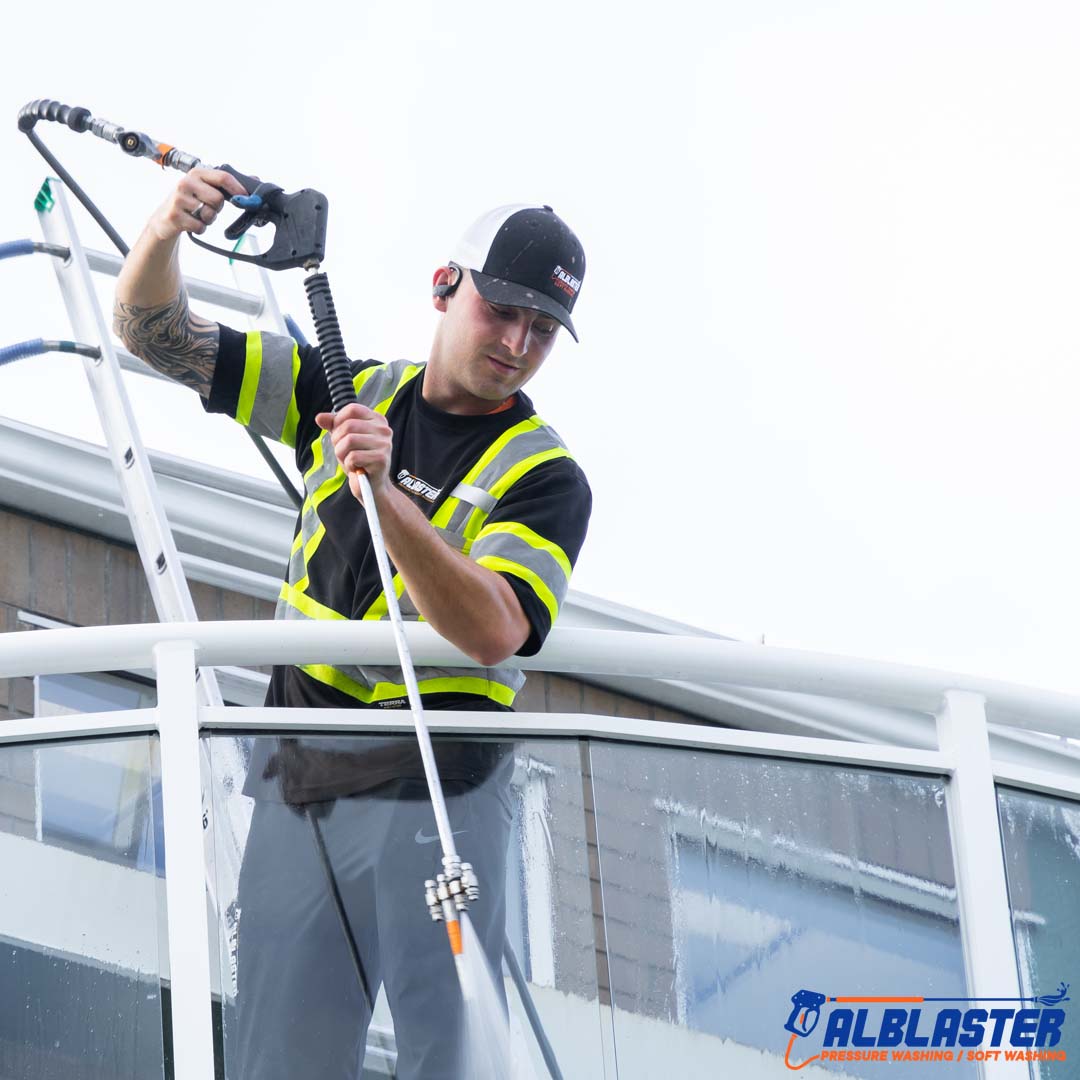 Why The Future of Cleaning Properties is Soft Washing?
Soft washing uses low pressure and higher volumes of water, along with an eco-friendly detergent, to thoroughly clean the surfaces of buildings without the use of high pressure. The idea is to let the detergent do the cleaning, instead of trying to blast off the dirt, grime, mould, moss, and any other environmentally caused hazards.
Softer materials like wooden siding, fixtures, masonry, brick, concrete, and many more, can be thoroughly cleaned without doing damage. A professional and knowledgeable cleaning service team understands the superior cleaning method of soft washing. Soft washing is also one of the more affordable methods for cleaning buildings.
If you want your building clean without the risk of property damage, soft washing is the solution. If you're interested in soft washing, contact Alblaster for more information. We're local, and we are experts in soft washing.
Here we have compiled 10 great benefits of Soft Washing:
Cleaning materials without causing damage: For surfaces that are hard to clean and could get damaged with high pressure, like windows, roofs, shingles, or siding, soft washing does the job.
Wide range of applications: Soft washing methods are preferred in a variety of cleaning applications over pressure washing, including surfaces like Vinyl siding, Screened doors, porches or lattices, Outdoor furniture, Stucco Siding, Cedar shake, and Roofs.
Low pressure means less chance of damage: Instead of trying to blast the surface clean, let the environmentally friendly detergent do the work.
Inexpensive and easy to use: Not only is soft washing equipment easy to use, but it also does a better, longer-lasting job because the solution kills the algae, mildew, and bacteria, instead of just blowing it off. Not only can this job be done faster, but the disinfected clean is also longer lasting.
Streak-free finish: Not only can soft washing clean sensitive areas like windows with no streaking, but pressure washing can also leave streaks on siding and other surfaces.
Safe for the environment: Soft Washing uses a biodegradable, environmentally friendly chemical to clean, ensuring the safety of children, pets, and plants.
Prevents the growth of algae, moss, and lichens: Because of the use of the eco-friendly detergent that kills the algae, lichen, mildew, and bacteria instead of just blowing it off, the clean lasts longer. Most roofs will stay clean for three years before biological regrowth requires another treatment.
Preserves the life of the building material: Soft washing is simply easier on your surfaces, so they last longer. Lower pressure allows your outdoor surfaces to last longer because roofs and siding get more time before they need to be cleaned again.
Kills algae, mildew, and other forms of biological growth: Carefully metered chemical solutions applied to building surfaces will kill damaging biological growth.
Keeps buildings looking new for a longer period: Because of the ability of soft washing detergents to both disinfect the surface of a building, and remove foreign material, buildings stay cleaner for longer periods.
For a Better Solution Choose Alblaster Soft Washing
For the best soft washing of your exterior, and the best results, call Alblaster. Our expert team knows what to look for, and what to look out for. We are efficient and thorough. Once our job is done, we make sure that no debris or pools of detergent are left. Contact Alblaster, we'll come to conduct a walk-through and provide a free estimate.