Keep Your Outdoor Plants Safe With Soft Washing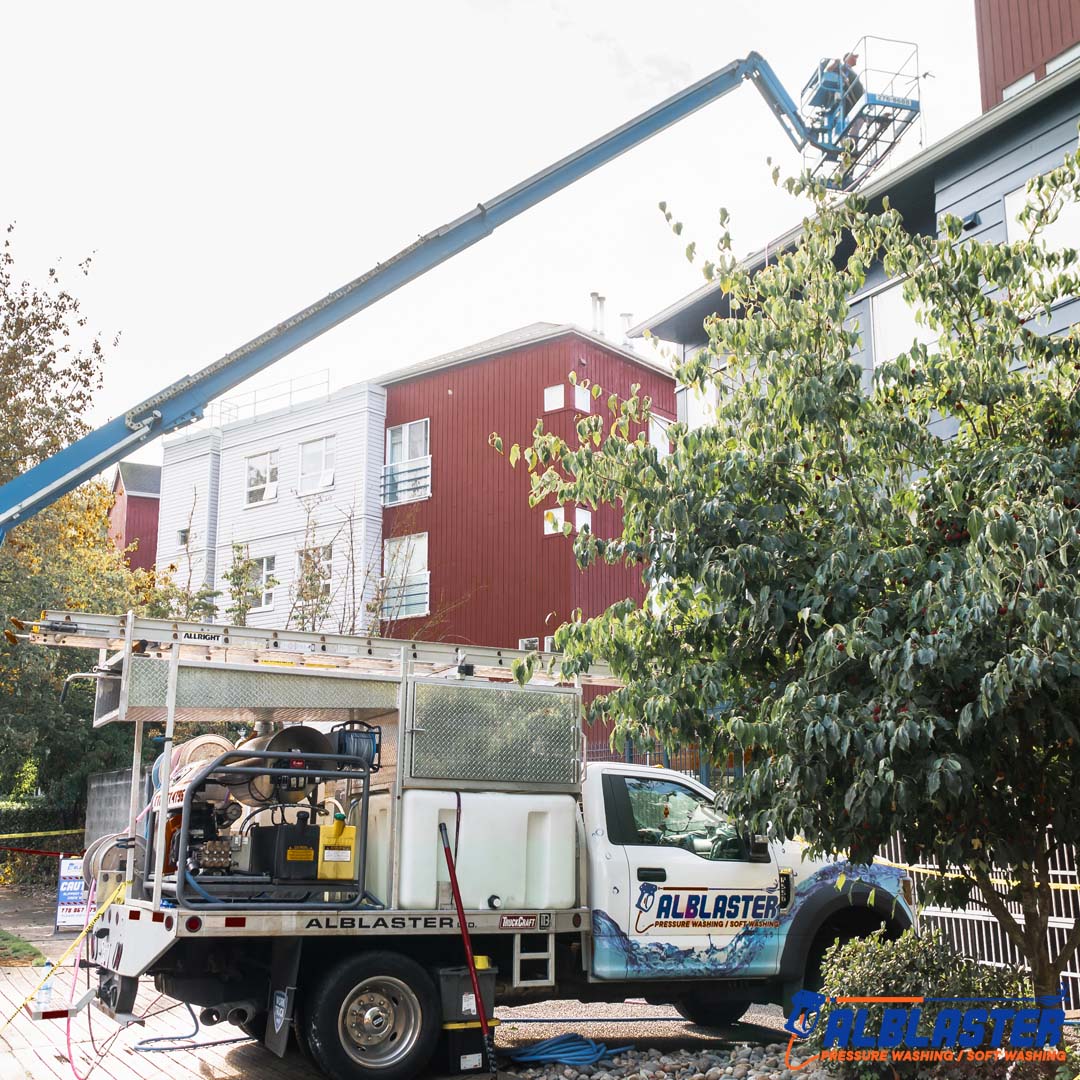 Is Soft Washing Safe for Your Outdoor Plants?
Soft washing is not only a gentler way to clean your property but also a more effective solution than pressure washing. The eco-friendly, non-toxic cleaning detergent removes dirt and grime and is also a much safer option for delicate plants and expensive landscaping. Pressure washing can easily damage flowers and foliage.
Keep your garden safe from the destructive force of water pressure. Soft washing is the best way to keep your plants from harm.
Our soft washing solution is tough on the build-up of dirt and grime, but soft washing equipment and methods in the hands of a trained Alblaster professional are not sprayed carelessly all over your property. In order for our solution to do its job on the dirt and grime covering your structure, it requires a careful and accurate application.
Our non-toxic detergent is an advanced formula that dissolves dirt, mud, hardened sand, and other debris from your structure, yet is not likely to harm the living plants and vegetation in your garden or landscape.
Soft Washing
There is no need for high-pressure blasting of water with soft washing, so there is no danger to the surrounding garden with delicate flowers and tender green leaves. With the soft washing process, an eco-friendly solution is applied with a low-pressure stream of water, which kills and cleans off the grimy dirt, moss, mould, mildew, and bacteria. This is followed by a rinse of clean, low-pressure water.
Soft washing easily removes stuck-on organic substances from windows, gutters, stucco, wood, concrete, or vinyl, without the collateral damage on your garden of pressure washing.
Let the sophisticated non-toxic cleaning agents do the work, instead of the pressure.
Extra Measures
Are you still concerned? There are extra measures you can take.
Watch the weather: Although a soft washing solution becomes inert very quickly. If the weather is dry, the rain won't wash it off before it has had the chance to work.
Pre-wet your surrounding plant life: We walk through the job site before we begin. At that time, we will be sure to wet everything down first. This gives the plants a chance to soak up clean water and wets down the leaves.
Make sure an eco-friendly solution is used: You'll want a solution that sticks to the surface and has a longer "dwell time." The less cleaning solution you need to use, the better. Our solution is eco-friendly and effective.
Start at the bottom: Working your way up is better, creating a barrier to allow less run-off to take place. Then spray the higher areas, this helps avoid spraying the plants below.
Catch downspout water: You can position and tape extensions to the base of downspouts. If there is no downspout, you can use a bucket. This prevents the run-off from soaking into the flower bed.
For a Kinder and Gentler Cleaning, Choose Alblaster
Contact Alblaster today to learn more about soft washing and how it can benefit your property and be easier on your landscaping. Once we view your property, we'll provide a free estimate. Our efficient and thorough team will provide the best soft washing results for the exterior of your property.