Driveway Pressure Washing Services
Vancouver Driveway Pressure Washing Experts
Driveway Pressure Washing
Your driveway takes a lot of abuse. Driveway pressure washing keeps asphalt and concrete surfaces from deteriorating and looking aesthetically pleasing. Whether at work or at home, dirty or stained driveways make a terrible first impression. Get Alblaster Pressure Washing to help you extend a warm welcome to all your visitors.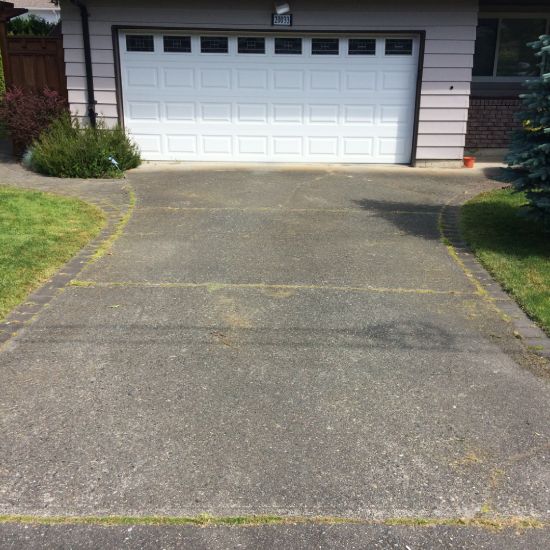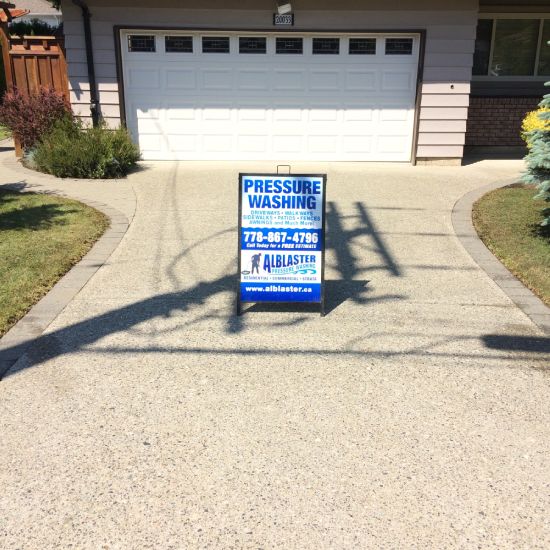 A garden hose has an average 40-60 psi rating which is effective to remove dust, dirt, mud, and leaves. Ground-in stains need and high-pressure washing. Our pressure washers typically offer a cleaning power of between 2000-4000 psi.
It is so important to make sure power washing at high pressure does not damage your concrete or asphalt surface.
Avoid replacing a surface you only intended to clean. The wrong pressure can crack or break your driveway.
Save the cost of purchasing or renting expensive tools and equipment and the risk of trial and error.
Alblaster Pressure Washing services tackle gas, oil, grease, tire marks, and other stubborn stains with environmentally-friendly solutions and specialty tools that restore the surface of asphalt and concrete.
We arrive fully equipped with a wide variety of driveway pressure washing tools for safe deep cleaning:
Rotary Turbo Nozzles: Shoots a fine stream of continuously rotating water that covers a wide area. This helps conserve water and save time because it takes fewer passes when pressure washing driveways. It removes all grass and weeds out from the cracks leaving your driveway looking brand new.
Surface Cleaners: Have 2 nozzles attached to the end of a rotary arm that spin, allowing coverage of areas between 20 to 25 inches. The consistent nozzle heights of a surface cleaner eliminate zebra striping and leave you with a nice even clean.
Different Spray Tips: Spray heads that can be set to different spray patterns to suit the surface. We usually use these to different spray heads to clean up whatever mess we made with the Rotary Turbo Nozzle & Surface Cleaner.
Eco-Friendly Detergents: All detergents and grease or stain removers we use are high-quality and have been rigorously tested. Proven results show how effectively stains lift from porous surfaces such as asphalt and concrete driveways.
When you need residential or commercial driveway pressure washing, Alblaster Pressure Washing has the equipment and expertise to get the job done.
Our highly trained staff work safely using the latest professional techniques and pressure washing equipment.
Enjoy the benefits of a spotless driveway.
Get the job done right the first time…and in way less time.
Call Alblaster Pressure Washing today to learn more about how we can help you.
Call Alblaster for your

Driveway Pressure Washing

job!
WHY HIRE US?
WHAT MAKES US DIFFERENT?
Our cleaning methods are low-pressure to ensure the safety for your property without compromising effectiveness.
We take the time to learn and use new methods and techniques to provide you with the best quality in pressure washing.
We train our employees exceptionally well to ensure they work efficiently.
Driveway Pressure Washing Reviews
Alex promptly replied to my call. On the day agreed, his pressure washing service showed up as expected with a full truck and all equipment. He spent the entire day working and left the yard and tiles clean and sparkling. The price was more than fair. I would highly recommend.
Alblaster – Pressure Washing Services is a great company to deal with. I have a home here in Burnaby, BC which was in dire need of pressure washing due to the build up of mildew on my driveway/outside deck which is typical in the lower mainland due to the amount of rain we get. The Alblaster team arrived promptly and beyond exceeded my expectations. I would HIGHLY suggest these guys for any of your residential/commercial needs. They really pay attention to detail, couldn't be happier. Thanks!
We hired Alblaster to pressure wash the walkways and clean the windows in our strata complex. They were absolutely amazing from the first point of contact. They attended our property and provided a quote within 24 hours. They were the lowest of three quotes and they attended our property within a week of being hired. The workers did a wonderful job of cleaning up our property. The walkways went from being extremely green and grimy to looking brand new again. Alexz in the office was a pleasure to deal with. He was very friendly and responsive. We will definitely work with Alblaster again in the future!
Professional and responsive from start to finish. Followed up after the work was complete to ensure satisfaction. Went above and beyond the work quoted.
Alexz and their team did a wonderful job of pressure washing the front entrance of our business. They responded to my request very quickly, and their team provided one of the best pressure washing we've had at our DTES location. The cost was also extremely reasonable. I would use their services again and suggest it to everyone. 11/10.