Underground Parking Lot Cleaning
Vancouver Underground Parking Lot Cleaning Experts
Parking Lot & Underground Parking Pressure Washing
The amenities available to many strata owners are often what attract them to this type of property in the first place. However, amenities are only as nice as you make them, and regular cleaning and maintenance are essential to keep residents happy and your strata functioning at a high level. Private parking is often available to strata residents, yet underground parking cleaning can be easily overlooked. Thankfully, our team at Alblaster is here to ensure that your parking areas are functional, well maintained, and as clean as can be.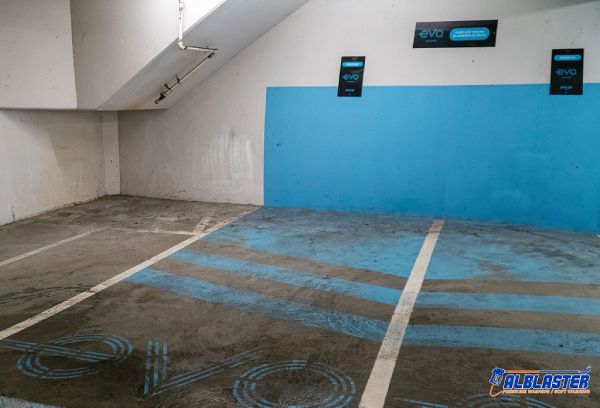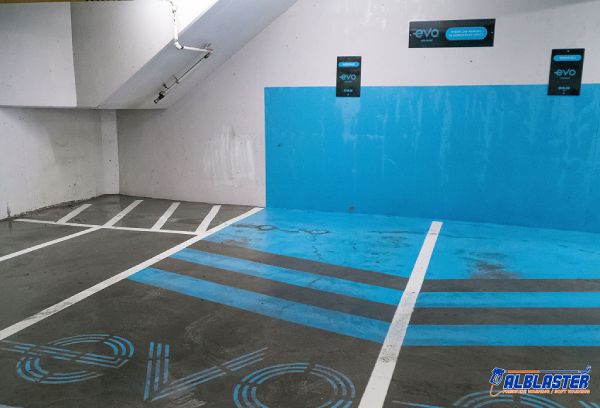 As with other exterior characteristics of your strata, maintaining a clean parking area is essential not only for appearances but also for improving the longevity of the area. Continuous build-up of dirt, grease, spills, litter and everything else that just happens to accumulate in parking areas over time will add unnecessary stress and clutter to an area that already sees a lot of traffic. Our professionals, however, will follow our time-tested procedures to clean your underground or parking area to the surface before honing in on the details. Once free of debris, the experts will degrease all oil, spills, to prevent erosion on the underlying concrete or asphalt floor.
Beyond the routine cleaning and degreasing of your strata's parking areas, our team at Alblaster is also well equipped to repaint parking lines and reseal any issues with your asphalt. Parking lines are simple and essential features of any parking area, thus it is crucial to keep them well maintained. If the lines in your strata's parking area are fading or laid out in a confusing way, call on Alblaster to repaint and revitalize your parkade. Further, we can also remove, retouch, or add lines to keep your lot up to speed with the changing times and tenets. From simple lines to symbols and writing, our team will make your parking area shine.
Among other things, strata owners and tenants are often drawn to these units for their amenities. As such, it is crucial to devote the time and energy toward maintaining these facilities. Thankfully, Alblaster is here to provide affordable and high-quality parking cleaning and maintenance. Call us to get a quote on your strata parking area and schedule an appointment to give your lot or parkade a fresh new look!
Call Alblaster for your

Underground Parking Lot Cleaning Reviews

job!
WHY HIRE US?
WHAT MAKES US DIFFERENT?
Our cleaning methods are low-pressure to ensure the safety for your property without compromising effectiveness.
We take the time to learn and use new methods and techniques to provide you with the best quality in pressure washing.
We train our employees exceptionally well to ensure they work efficiently.
Underground Parking Lot Cleaning
Alex promptly replied to my call. On the day agreed, his pressure washing service showed up as expected with a full truck and all equipment. He spent the entire day working and left the yard and tiles clean and sparkling. The price was more than fair. I would highly recommend.
Great service. Made sure I was completely satisfied with their work before they left the site. Would definitely recommend them for pressure washing.
Corinne Dempsey
Vancouver
Alblaster – Pressure Washing Services is a great company to deal with. I have a home here in Burnaby, BC which was in dire need of pressure washing due to the build up of mildew on my driveway/outside deck which is typical in the lower mainland due to the amount of rain we get. The Alblaster team arrived promptly and beyond exceeded my expectations. I would HIGHLY suggest these guys for any of your residential/commercial needs. They really pay attention to detail, couldn't be happier. Thanks!
We hired Alblaster to pressure wash the walkways and clean the windows in our strata complex. They were absolutely amazing from the first point of contact. They attended our property and provided a quote within 24 hours. They were the lowest of three quotes and they attended our property within a week of being hired. The workers did a wonderful job of cleaning up our property. The walkways went from being extremely green and grimy to looking brand new again. Alexz in the office was a pleasure to deal with. He was very friendly and responsive. We will definitely work with Alblaster again in the future!
Professional and responsive from start to finish. Followed up after the work was complete to ensure satisfaction. Went above and beyond the work quoted.
Alexz and Daniel were very responsive. A reply came on the same day as the request, they listened to our needs, and provided both their availability and a quote quickly. They also specified their needs to provide their service in advance, so there were no surprises on site. City noise-bylaws were respected, they and were considerate of the neighbours. The final cost was no any higher than the original quote. They did the job completely, and on time. Thank you for your great work!
Crystal Gilhooly
Vancouver