Soft Washing or Regular Pressure Washing? What is Best For You?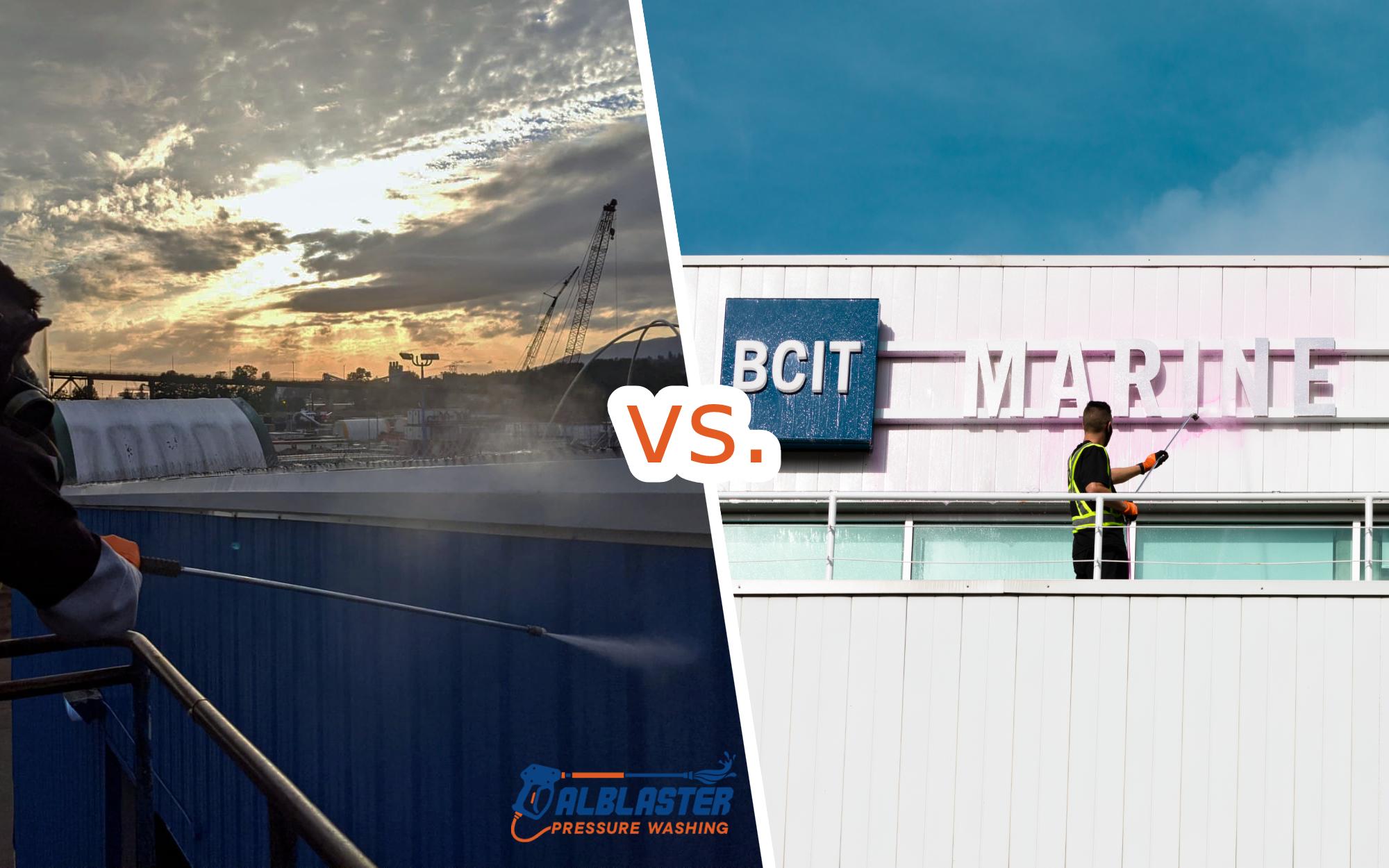 You may be anxious to remove stains from your siding deck or patio. If you are also worried about the possible damage from pressure washing, we can tell you that some surfaces should be soft washed instead.
"Pressure washing" is frequently misunderstood. When you hire a professional pressure washing company like Alblaster, they can determine the proper way to clean a surface thoroughly. It is important to know the basics involved in the process. The proper technique for certain surfaces may involve soft washing. Soft washing incorporates low-pressure and lets the detergent do the cleaning.
Which is Better?
Is soft washing better than regular pressure washing? It depends on what you're washing. Soft washing is going to require the right biodegradable detergent. This method is best used on surfaces that can be easily damaged, like vinyl siding, stucco, wood and windows. For driveways and other hard surfaces, especially with a build-up with heavy grime or moss, pressure washing is a better choice.
Soft Washing
The Alblaster team member will know when the surface is not able to withstand high pressure. So a soft pressure (less than 500 PSI, or Pounds per Square Inch) with a biodegradable detergent is used to remove biological elements growing on the surface like mould, algae, lichen, pollen, dirt, moss, dust or any resulting stains, without doing damage to the surface, or the vegetation.
Surfaces like fences, siding, patios, decks, or roofs can be easily damaged by high pressure. The soft washing method can be used on these surfaces to thoroughly clean without damage by letting the detergent do the cleaning. Our cleaning solution breaks down dirt and organisms living on those surfaces. It also gets at the material growing underneath and between the shingles, roofing and boards. These are areas that washing with a garden hose won't clean.
Although mould, algae, lichen, pollen, dirt, and moss are a fact of life, they can grow quickly and damage the surface of your property. If high pressure is not the answer, soft washing is the solution. It is a safer process for keeping painted surfaces in good shape longer.
Pressure Washing
Pressure washing is highly effective for cleaning hard surfaces with built-up dirt and grime. This is because it is pushed out at such a high pressure, it can cut through the most challenging layers. If mishandled, it can also easily cut through your skin. That is a major reason why it should be handled by an experienced professional. Alblaster uses pressure washing to clean tough surfaces and make them look like new. We know exactly how to safely wield high pressure.
Sometimes, there is nothing that works better than water under pressure to get the built-up grime off a surface.
Alblaster Understands Your Property
If you need a cleaning company that understands the right way to wash and cares about your property's lifespan, contact Alblaster. We're always available.