The Benefits of Soft Washing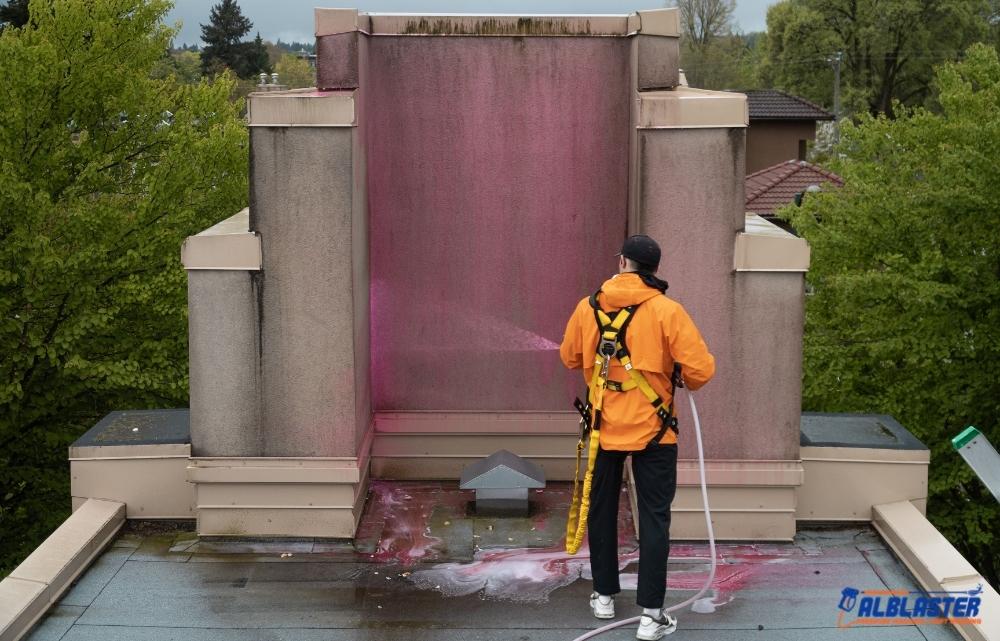 As technology, and the resulting chemistry, continues to advance, the exterior cleaning industry continues to advance with it. Alblaster is at the leading edge of those advancements. We are finding that a softer, more sophisticated approach to removing organic debris and stains from exterior surfaces are beginning to dictate our methods.
By using the latest cleaning detergent, we can use lower pressure and let the detergent do the work. We can then rinse the detergent containing the organic build-up off the surface with clean water at low pressure. The correct pressure is about 60 psi.
High pressure may be alright for a specific situation, but for the most part, water alone, even in high pressure, is seldom enough to remove the stains of organic build-up from the side of a building, or the trim, siding, gutters, and window frames. Also, high-pressure washing techniques can damage a surface, no matter what the building material is made of.
Better Cleaning Through Chemistry

The cleaning solution most often used includes Sodium Hypochlorite (bleach), along with a surfactant or foaming agent. When done professionally and appropriately, small amounts of this solution are safe. We always use a very small amount of cleaning solution, never more than 1.5% to be exact.
Between the Sodium Hypochlorite and the surfactant, algae, mildew, and mould are dissolved and other debris like cobwebs, dust, and dirt are easily rinsed away with clean, low-pressure water.
Safer Process, Better Results

Soft washing is safer. You can place your hand in front of the nozzle without pain or injury, and you can effectively clean the surface without causing any damage. Another plus, making the process safer, is that you can cover a larger area without having to get as close to the area you're cleaning. It is all-around more cost-effective and efficient for the customer.
The Soft Washing Advantage
Soft washing requires less water than high-pressure washing
The result is more than washed, it's disinfected
Using a cleaning solution does a better cleaning job
The surface stays cleaner longer because mould, mildew, and algae are killed and removed at a molecular level
Less chance of damage to the structure and water penetration into any surface

Soft Washing is a Better Solution

You just can't get better results than hiring Alblaster for any of your soft washing needs. We wash anything from apartment buildings, industrial buildings, businesses, warehouses, townhomes to your residential home. We know what is involved and what to look out for. When the job is done and it's time for us to leave the site, we clean up and make sure everything is perfect, just the way you like it. All plants and flowers are given a final rinsing with water making sure there is no chemical left behind. We have never had a plant die in all our years of soft washing.
We care about the lifespan of your building, not just the job. A good plan involves washing your building every two-three years to make sure you address issues as they happen. Waiting too long causes material to build-up which can cause permanent damage to your exterior, requiring costly repairs. Our results and how we achieve them, speak for themselves.