The Best Way to Clean a Tile Roof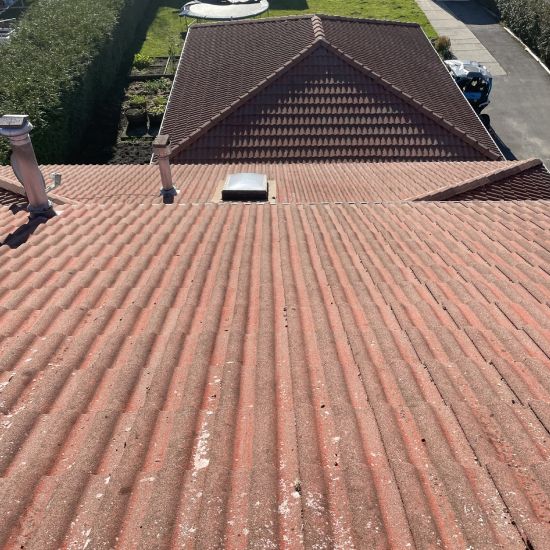 What is the Best Way to Clean a Tile Roof?
Although a tile roof is the costliest to install and repair, it is also the most durable. With proper care, a tile roof can last for hundreds of years. If you are looking to never have to get a new roof, install slate tiles. Tile roofs are fireproof, highly wind-resistant, never subject to rot or insect damage, energy-efficient, and require very low maintenance.
Soft washing is the most common way to clean a tile roof. Cleaning your tile roof regularly is the best way to ensure that its true colour shines through. With the low-pressure stream of soft washing and our eco-friendly solution, the roof is cleaned without damage to the tile. Pressure washing can cause tiles to crack, chip or dislodge.
Cleaning a tile roof with the soft wash method every 3 years is needed to remove various kinds of debris, lichen, algae, dirt, and dust. This work ensures that your tile roof will look its best. But leave this job to the professionals to be done right as this is a complicated job. Walking around on a wet roof, focusing on cleaning it, is not for the inexperienced. Stay safe and get a thorough clean by hiring professionals for this job.
Tips on Tile Roof Cleaning
Here are a few tips on how to keep your tile roof looking its best:
Start the process by removing any debris from the roof using a wire brush and a leaf blower:
The interior gutters next are cleared out at the same time. The soft washing eco-friendly solution goes to the root of the problem and weakens the moss's hold on the shingle. We then let mother nature take care of the rest with a mixture of sun and rain!
Your tile roof should remain beautiful and protective for many years to come if you follow these simple steps on a regular basis.
Soft Washing
When we soft wash your tile roof, we utilize a low-pressure stream of water with an eco-friendly detergent that cleans off organic material and addresses the root of the problem. This solution is important to retard further growth and to loosen the first layer of organic material and the associated stains. After the solution has been sprayed on, some scrubbing should be done before rain water washes away the rest.
A Tile Roof is Not Impervious
Although a tile roof seems to have rock-solid resilience, regular roof cleaning is still essential and should never be neglected.
Moss collects and holds water, which erodes and if there is a freeze can crack the tiles.
Once tiles are cracked, they allow water to soak into the underlying roof material.
Organic matter can cause water to back up and pool. Standing water causes severe roof damage.
Birds, their droppings, and insects are attracted to biological growth such as moss, and so can cause more damage via their activities.
All roofs attract dust, pollen and dirt, a tile roof is no exception.
For Cleaning Your Tile Roof, Choose the Professionals at Alblaster
Contact Alblaster today to learn more about our tile roof soft washing process. Once we have a look at your roof, we'll provide a free estimate. Our soft washing process will leave your roof spotless and looking new.
If you have any questions, please don't hesitate to contact us. We would be happy to help!