Tips on Caring for Your Cedar Roof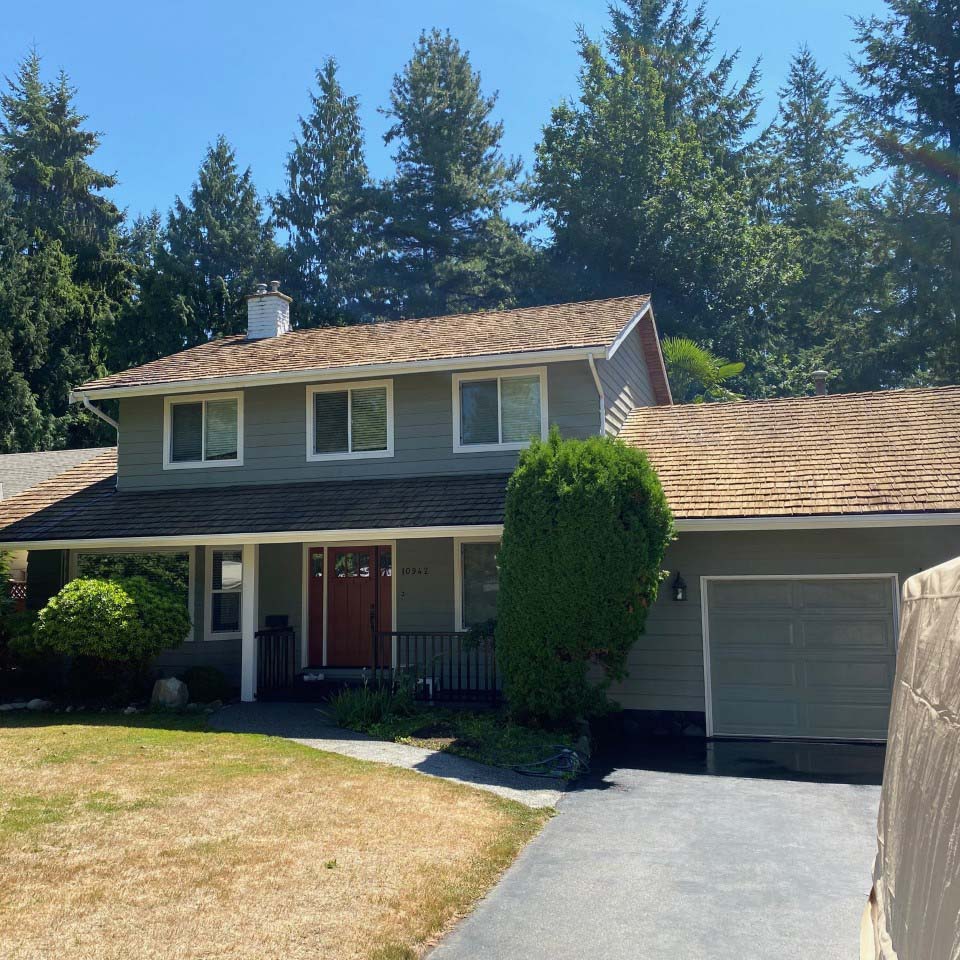 Tips on Caring for Your Cedar Roof
There is nothing like a cedar roof for that beautiful natural look, and since it is a natural insulator, you can conserve heating and cooling energy, and save on your bills compared to asphalt shingles. Cedar contains a natural ability to repel severe weather including strong winds, snowstorms, hail, and heavy rain.
For a cedar roof to remain durable, strong, and last for a longer period, its care and maintenance require some specific considerations.
Cedar Roof Cleaning
Cedar roofs can become stained and weathered if not properly maintained. In order for them to stay in good condition, they require regular soft washing and roof cleaning. Cedar is a softwood that can eventually be damaged by weather and UV rays.
Soft washing is the best way to clean a cedar roof. Soft washing with a low-pressure stream and our eco-friendly solution cleans the roof without damaging the wood. For the cedar roof to remain in good condition, this process should be repeated every 3 years.
Regular maintenance of your cedar roof will help keep it looking good for years to come.
What About Power Washing?
Should a cedar roof be power washed? The simple answer is "NO". Although it seems like it would be the right tool for the job, it would be easy to damage the roof if you weren't careful. Even if you were careful, a power washer can eat away at the surface of the shingle. Additionally, being on top of a roof with that much pressure is dangerous. Soft washing is the best ways to clean a cedar roof. This involves using a low-pressure stream of water and an eco-friendly cleaning solution to remove any dirt or debris from the roof.
Removing Moss from Cedar Shingles
Cedar shingles can attract moss like a magnet. In addition to being unsightly, it can also damage your roof. Here is a step-by-step instruction for removing moss from your roof.
Remove any debris from the roof using a wire brush and a leaf blower:
The interior gutters next are cleared out at the same time.
The soft washing eco-friendly solution goes to the root of the problem and weakens the moss's hold on the shingle.
We then let mother nature take care of the rest with a mixture of sun and rain!
Choose the Professionals at Alblaster for Cedar Roof Cleaning
Contact Alblaster today to learn more about our cedar roof soft washing process. Once we have a look at your roof, we'll provide a free estimate. Once we're done, your cedar roof will be spotless and look like new.
If you have any questions, please don't hesitate to contact us. We would be happy to help!