How Often Should You Soft Wash the Exterior of Your Building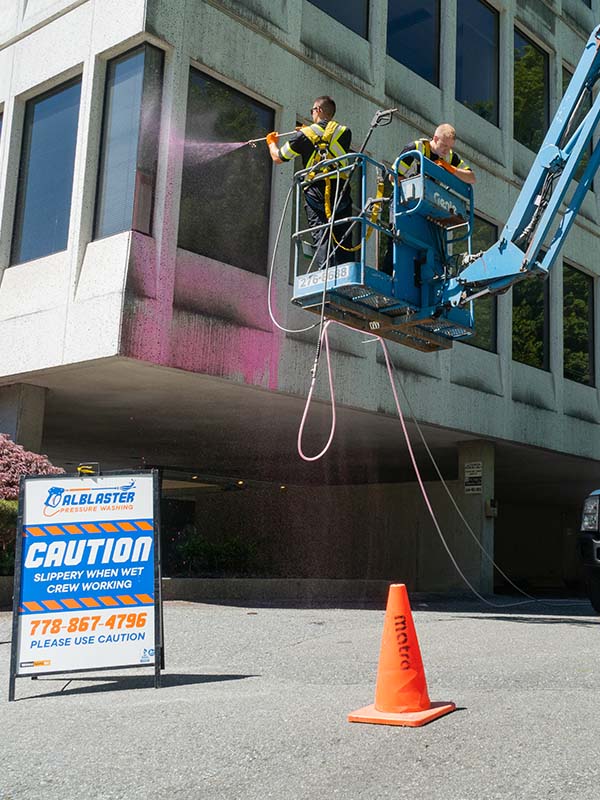 How Often Should You Soft Wash the Exterior of Your Building
There are several variables that determine how often you should wash your building exterior, including climate/location, the type of activity around your building, what type of building material it is made of, its age, and simply how dirty it gets. Typically, you should soft wash your building about every 2 to 3 years. However, you may find that it gets dirty more often than that.
A clean office or store sends the message that you run an orderly and tidy business; it may even help others understand that you are open for business. The effect of a clean and fresh-looking building may be difficult to measure, but it ultimately is important to your reputation and your brand.
Soft Washing
The process of cleaning with the soft washing method is to apply a cleaning solution to the surface with a low-pressure stream, then, after the solution has done its work on the organic matter like dirt, mould, mildew, bacteria, and moss, it is then rinsed off with low-pressure water. There is no need for high-pressure water that can potentially damage the surface or other more fragile fixtures or windows.
Soft washing is a more sophisticated cleaning process, in that it allows the eco-friendly chemical to do the work instead of the high-pressure. Many surface materials and stains are too tough to remove with water alone and blasting it with water many times removes some of the surfaces as well, lessening the surface's ability to protect the structure of your building.
The technology that goes into the new non-toxic, eco-friendly chemicals has dramatically improved over the years. Organic material can now be easily removed from vinyl, concrete, wood (roofs, decks, or siding), stucco, gutters and windows, without pressurized water blasting the surface.
The Benefits of a Professional Soft Wash
Get the best information on soft washing your building from a professional soft washing company like Alblaster. We'll help you determine how often you should have your building soft washed and how your particular situation determines the approach we'll take.
Soft washing has several benefits. Primarily, pressure washing may remove some of the grime and debris, but it can also push it deeper into your surface, or underneath. Soft washing eliminates the cause. This means that cleaning can happen less frequently than with pressure washing. Soft washing may even last 4 to 6 times longer and be much safer for your structure.
Keep it Clean
When you think about our 100% eco-friendly solution, our safe and gentle cleaning methodology, the effectiveness of the solution's ability to clean off moss, mildew, mould, and algae, the extended clean, and the safety to kids, plants, and pets, cleaning your structure with a soft washing method once a year is a good idea.
For Quality Soft Washing, Choose Alblaster
Contact Alblaster, once we view your property, we'll provide a free estimate. We are efficient and thorough and provide the best soft washing results for the exterior of your property.